The end for LOL?
Theres a shock instore for Lou soon as Lolly temps death ONCE again!
While out playing young Lolly chases Bob the dog, through NO:30's gate and trips, bangs her head and falls into the Swimmingpool!
Dione sees her floating about and alerts Darcy who comes to her rescue, but could it be to late??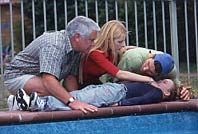 BITCH'IN!
Annoyed about the way Madge became in Neighbours, Anne Charleston attacked the shows Scriptwriters.
She said how they took the character she built apart piece by piece giving her every disease known to man!
TESS YA BITCH!
Ausralian viewers recently saw Tess and Dirty Darcy kiss behind Dee's back.
It looks like there could be an affair on the cards between the pair, which will really piss Dee off, hopefully there will be a good slap on the cards aswell. It looks like this storyline marks the end of Tess's crap career on Neighbours.....so,
GOODBYE!